Facilities
TMBL is well equipped with cutting edge instruments for characterizing biological and synthetic materials at all scales. Some examples are highlighted here, in addition to others avaialble in Biopolis and the National University of Singapore.
MD1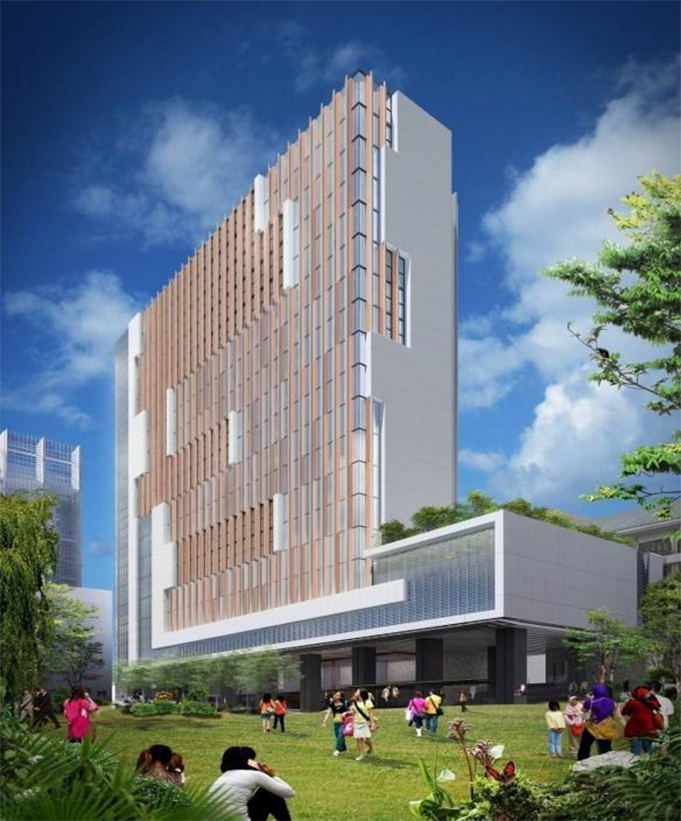 The location of the Confocal Microscopy Unit and Flow Cytometry Laboratory at the National University of Singapore (NUS)
MD9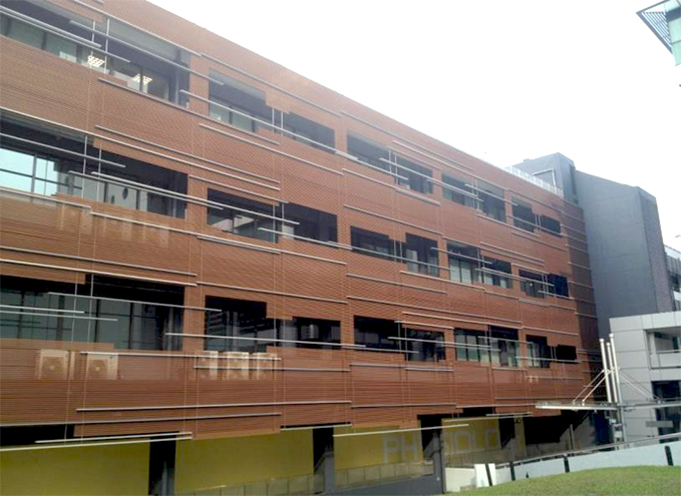 The location of the main research laboratory of Translational Mechanobiology Lab at the National University of Singapore (NUS)
Level 6, Nanos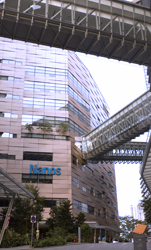 - The location of the Translational Mechanobiology Lab at the Institute of Bioengineering and Nanotechnology (IBN), Biopolis.
Zeiss Axio Observer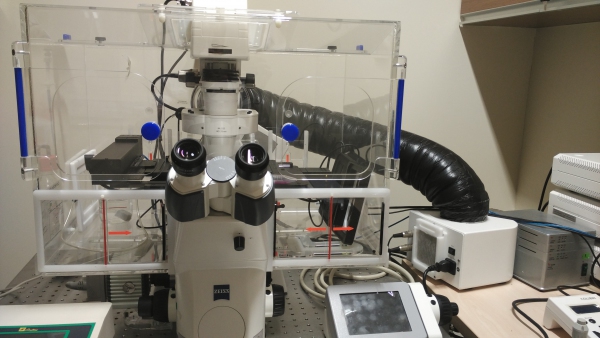 Gain accurate and reliable knowledge about living cells with your Axio Observer. According to the cell biology experiments you run, choose the degree of motorization and automation out of 3 different stands. Simply stay focused on your scientific experiments.
Carl Zeiss LSM710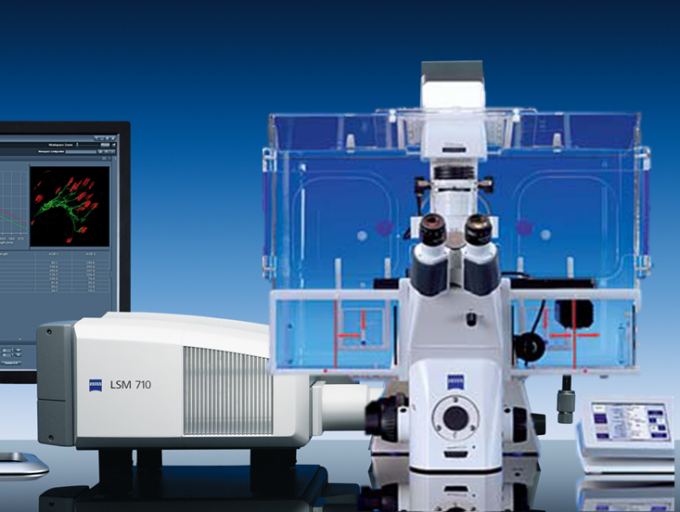 The Zeiss LSM 710 is a state of the art laser scanning confocal microscope that incorporates the latest advances in optics, lightpath efficiency, low noise scan electronics and detectors.
Olympus FV10i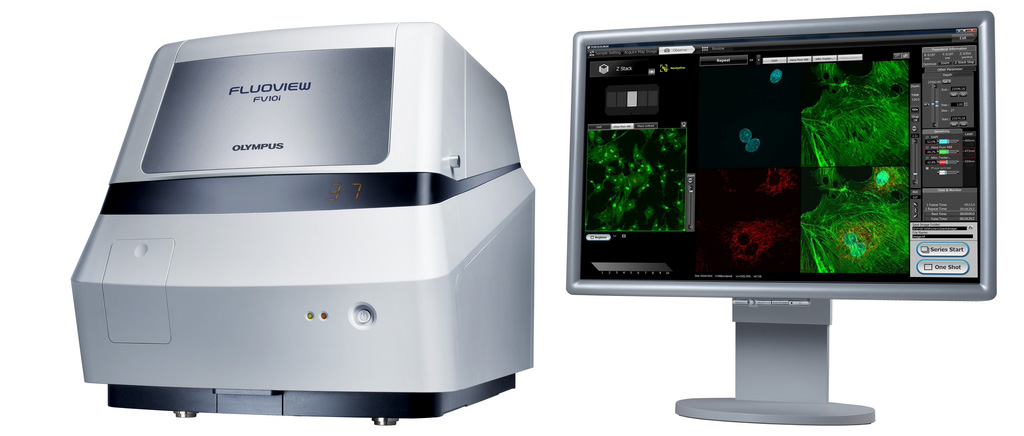 The unique FLUOVIEW FV10i-LIV is a fully automated confocal laser-scanning microscope. The completely re-engineered design of this microscope, integrated into a self-contained package with a variety of functions, enables even inexperienced and first-time users to perform easily and efficient high-quality confocal imaging. Olympus has made no compromises in ergonomics and image quality, using high-quality optical components and smart and easy software.
Olympus FV300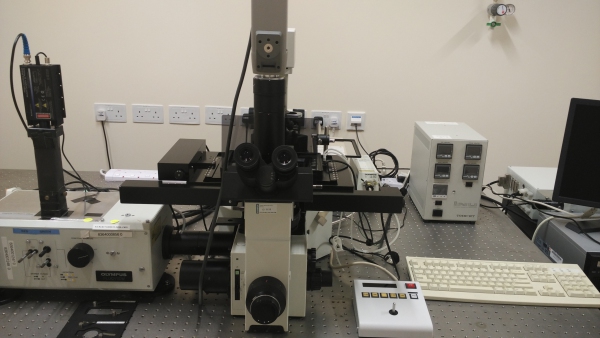 The Olympus FluoViewTM 300 is a point-scanning, point-detection, confocal laser scanning microscope designed for biology research applications. Excellent resolution, efficiency of excitation, intuitive user interface and affordability are key characteristics of the Olympus FluoView 300. Laser equiped:-10 mW Argon ion 488nm -1mW HeNe Green 543nm -5mW HeNe Red 633nm -A Ti:Sa femto-second laser, the 705 - 980nm Chameleon XR for 2-photon imaging has been installed and undergoing calibration. - Others: Live cell imaging chamber with 5% CO 2 with air and stage heater.
Olympus FV1000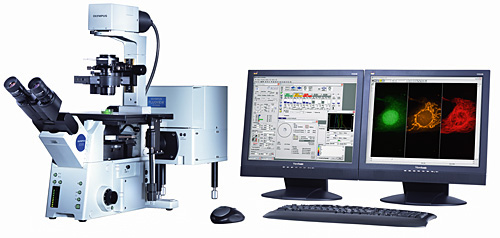 The Olympus FluoView™ FV1000 confocal microscope opens new frontiers in live cell imaging with advanced technologies that provide improved sensitivity and high scan speeds for imaging live organisms with minimal specimen damage. FV1000 Laser equiped: - 20mW solid state 405nm - 25 mW Argon ion 458nm, 488nm, 515 nm -1mW HeNe Green 543nm - Others: Live cell imaging chamber with 5% CO 2 with air and stage heater.
FV1000 TIRF Laser equiped: - 20mW solid state 405nm - 25 mW Argon ion 458nm, 488nm, 515 nm - 1mW HeNe Green 543nm - 5mW HeNe Red 633nm - Others: Live cell imaging chamber with 5% CO 2 with air and stage heater.
TissueGnostic: TissueFAXS Slide Scanner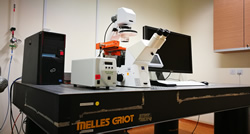 The TissueGnostics TissueFAXS Slide Scanner can scan digital slides or images of tis sue sections, Tissue Microarrays (TMA), cell culture monolayers, smears and of other samples on slides and oversized slides, in Microtiter plates, Petri dishes and plates in both bright -field and epiflu orescence modes. TissueFAXS Laser equiped: 365nm, 488nm, 545nm, 643nm, 710nm.
Bitplane Imaris 8.1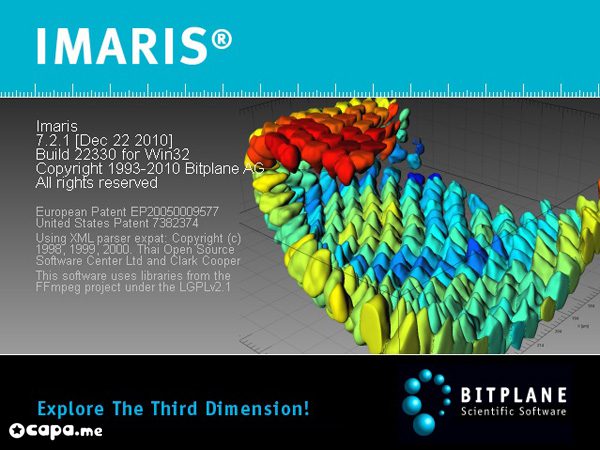 Imaris' three views - Arena, Surpass and Vantage - will naturally guide you through the stages of the Scientific Method. At your disposal you have a fully integrated platform which allows you to organize/explore your data, visualize it, (batch) analyze it, test hypotheses and present your conclusions in the best possible manner. Imaris 8.1 builds on the powerful and versatile infrastructure introduced with Imaris 8.0. The new version offers a range of useful solutions for microscopy core facilities and sites where users need to access and store their data using different workstations. - See more at: http://www.bitplane.com/imaris#sthash.dvsvKecy.dpuf
ImageJ

ImageJ is a public domain, Java-based image processing program developed at the National Institutes of Health.ImageJ was designed with an open architecture that provides extensibility via Java plugins and recordable macros. Custom acquisition, analysis and processing plugins can be developed using ImageJ's built-in editor and a Java compiler. User-written plugins make it possible to solve many image processing and analysis problems, from three-dimensional live-cell imaging to radiological image processing, multiple imaging system data comparisons to automated hematology systems. ImageJ's plugin architecture and built-in development environment has made it a popular platform for teaching image processing.
MATLAB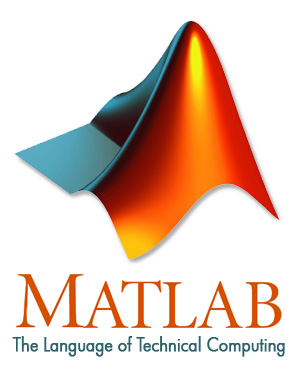 The MATLAB platform is optimized for solving engineering and scientific problems. The matrix-based MATLAB language is the world's most natural way to express computational mathematics. Built-in graphics make it easy to visualize and gain insights from data. A vast library of prebuilt toolboxes lets you get started right away with algorithms essential to your domain. The desktop environment invites experimentation, exploration, and discovery. These MATLAB tools and capabilities are all rigorously tested and designed to work together.
Image Pro Plus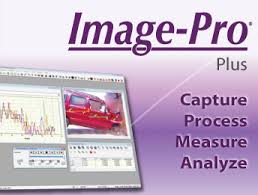 Image-Pro software includes the latest tools for scientific and industrial image analysis and image processing. Capture, process, measure, share, visualize and compare.
MetaMorph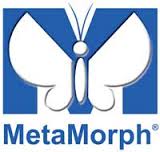 MetaMorph® Microscopy Automation & Image Analysis Software is the industry standard for automated microscope acquisition, device control, and image analysis, bringing microscopists greater understanding of cell morphology, function, and behavior for over 25 years. It is the ideal "glue" for easily integrating dissimilar fluorescent microscope hardware and peripherals into a single custom workstation, while providing all the tools needed to perform meaningful analysis of acquired images. The software offers many user-friendly application modules for biology-specific analysis such as cell signaling, cell counting, and protein expression.
BD LSR Fortessa Flow Cytometry Analyser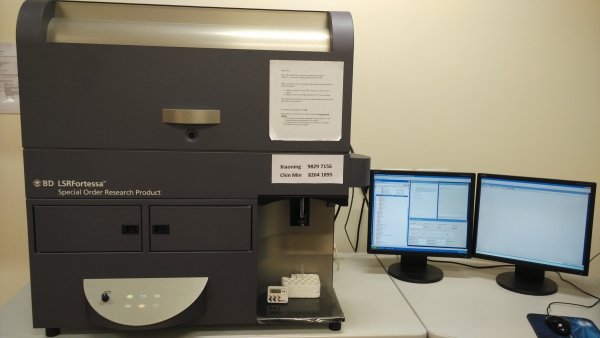 BD LSR Fortessa is equipped with four solid lasers (405nm, 488nm, 561m and 640nm). It can detect 16 colors simultaneously in addition to Forward Scatter (FSC) and Side Scatter (SSC). It can also perform 5-color analysis without compensation.
BC MoFlo Astrios EQ Sorter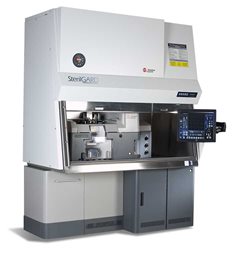 MoFlo Astrios EQ is able to perform 6-way sorting without compromise and measure crucial particle characteristics over more than three orders of magnitude, from as small as 200 nm to 30 µm diameter, all at the same time.